In a brief but historic ceremony, Hon'ble Union Finance Minister Arun Jaitley, along with Hon'ble Union Minister Dr Jitendra Singh and Hon'ble Union Minister of State (Independent Charge) for Communications Manoj Sinha, released a commemorative postal stamp in the memory of Late Justice Mehr Chand Mahajan, the third Chief Justice of Supreme Court of India on 31/12/2017.
Shri A N Nanda Secretary (Posts) also present in the function.
Mehr Chand Mahajan was the first prime minister of Jammu & Kashmir. Till 30 March 1965, the chief minister's office was then known as Prime Minister of Jammu and Kashmir. Thus Mehr was the first ruler of Kashmir of independent India after partition. He played a key role in the accession of J&K to India. He belonged to Indian National Congress and was nominee on the Radcliff Commission that defined the boundaries of two countries. His tenure of 142 days was during the period 15 October 1947 – 5 March 1948. Apart from a politician, Mahajan was the third Chief Justice of the Supreme Court of India.
He was born on December 23, 1889 in Kashmir. He started his career as a lawyer in 1913 in Dharmshala, where he practised for one year. Later he worked as a lawyer in Gurdaspur for four years. Till 1943, he practised in Lahore. During the period 1938 to 1943, he served as the president of the High Court Bar Association of Lahore. Soon after Indian independence, he was appointed as the Prime Minister of J&K. During his short tenure as PM, he played a role in the accession of Kashmir to India. He annexed district Gurdaspur to India, turning down Lahore. On 5th March 1948 Sheikh Abdullah preceded him and completed a term of 5 years also.
In 1948, he became one of the first Judges of the Supreme Court of independent India. 6 years later he was promoted to the Chief Justice position. On January 4, 1954 he was appointed as the third Chief Justice of India and remained in that position till his retirement almost one year later. He has also held director posts of many organizations like Punjab National Bank. He was given a Hon. Degree of LL.D. by Punjab University in the 1948. He passed away in 1967.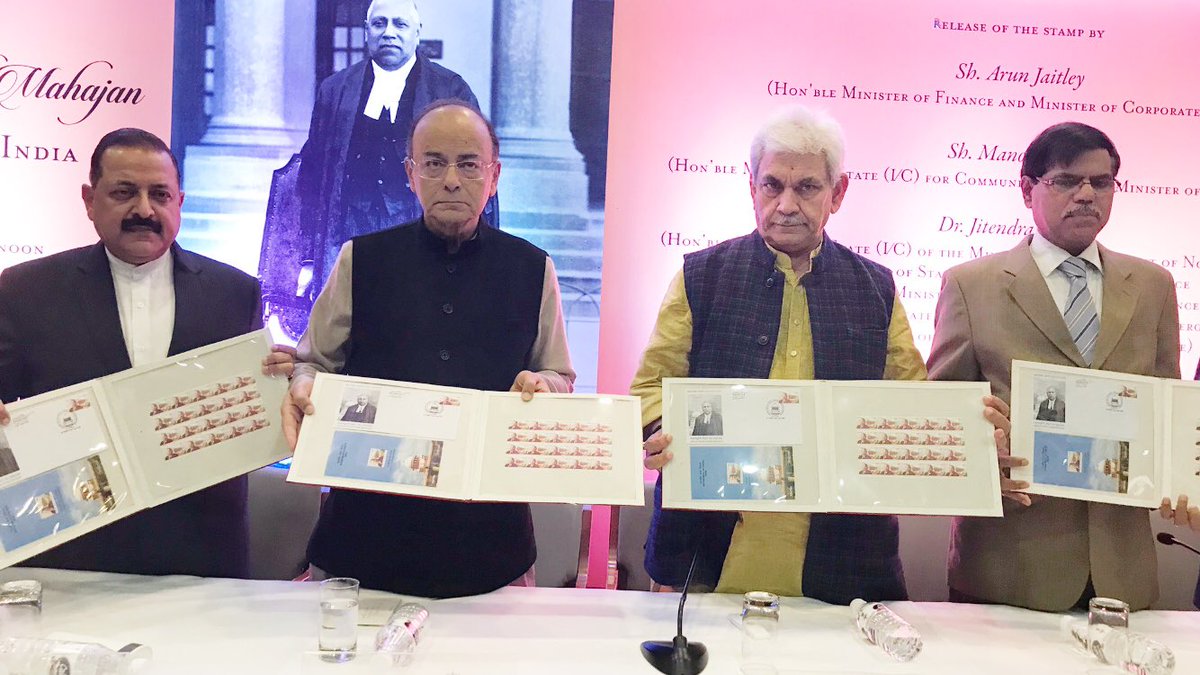 Speaking on the occasion, Arun Jaitley dwelt on the various facets of Mehr Chand Mahajan's versatile persona and said, there is hardly any similar instance where a legal luminary of such extraordinary calibre achieved the highest judicial position in the country but, at the same time, his contribution did not remain confined only to the legal profession.

Jaitley lauded Justice Mahajan's contribution as Prime Minister of Jammu & Kashmir and in accomplishing the accession of the State with India. He also commended his simultaneous contributions in social life, particularly his role in carrying forward the Arya Samaj movement in modern India.

While as Chief Justice of Supreme Court in early years after independence, Arun Jaitley said, Justice Mahajan left his foot-print to be followed by the future judges, at the same time, he also lent his full support to spread a chain of educational institutions, particularly DAV schools and colleges, across the country.
Dr Jitendra Singh, in his address, said that by releasing a commemorative stamp in the memory of Justice Mahajan, we are actually redeeming a pledge that we had made to ourselves over half a century ago but we had to wait for the present Government under Prime Minister Narendra Modi to accept the request for honouring this great son of India.

Dr Jitendra Singh called for retrieving Pak occupied Jammu Kashmir (PoJK) from illegal occupation of Pakistan and make it a part of Indian Union to honour the legacy of Late Justice Mahajan. He said, this will be the redemption of another unfulfilled pledge because it was Justice Mehr Chand Mahajan who, as Prime Minister of Jammu & Kashmir, had assisted Maharaja Hari Singh to accomplish full and final accession of J&K to India.

Describing Maharaja Hari Singh as a ruler blessed with the intuition to pick up the best of the best talent from across the country, Dr Jitendra Singh said, Mehr Chand Mahajan was among one of the Maharaja's chosen ones, just as Maharaja Hari Singh had also roped in luminaries like Gopalaswami Iyyengar and Sir Ram Nath Chopra to serve in the State in different capacities.

Union MoS (I/C) Communication, Manoj Sinha expressed satisfaction at the fact that the task to release a commemorative stamp in the memory of Late Justice Mahajan had finally been accomplished. He said, there had always been a constant pressure from several legal luminaries, nationalistic ideologues, social activists, political leaders like Arun Jaitley and Dr Jitendra Singh, as well as a wide range of followers of Justice Mahajan, to commemorate his memory by way of a postal stamp.